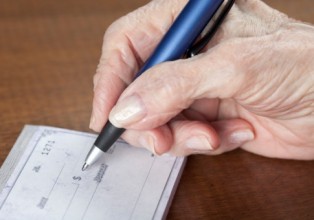 While Boomers save for retirement, some are also helping to support their own parents and wrestling with some tough questions.
Violet, age 92 and still living alone in her own home, is running out of money. She took out a mortgage to meet her monthly living expenses and to support her husband, who has dementia and is in a board and care home.
She is steadily eating up the equity in her home. If this keeps up, she will be homeless.
Her income from a modest pension and Social Security is not enough to pay for the cost of caring for her husband and to support her. Her husband's income is similar to hers: (Inadequate)
Violet sought advice about what to do. "I want to stay in my own home as long as possible" she says. Like so many Seniors, she is comfortable in the place she has lived for decades and she does not want to move.
Violet has three daughters, two married and one single. None are wealthy. One of her daughters just lost her job and is looking for another position. The others are working and doing all right, but their mutual concerns about their Mom centre on the question of whether they should all pitch in and help.
In a family meeting, we discussed all their concerns at some length. Even if everyone pays some money each month toward Mom's cost of living, it still won't be enough to keep her in the family home. As fate would have it, Violet's daughter Joan and her husband just sold their home and were trying to decide whether to buy another one. Joan suggested that perhaps she and her husband, Tom, could move in with Mom and help pay the mortgage. I referred them to an estate planning attorney who is also a CPA, and they came up with a plan.
Mom could re-title the house and put the names of her kids on title. That created numerous advantages. Joan and Tom and their disabled daughter are willing to live with Mom. They will make the mortgage payments in exchange for a larger share of the remaining equity in the home.
It will be an adjustment for everyone in the household, but they are committed to make it work. The other siblings will help with Dad's support and balance out the financial burden according to their abilities.
We put their plan in writing at the end of the family meeting and gave everyone a copy. Later, Violet called to say how happy she was that everyone seemed to be on the same page, and it felt good.
Violet's situation is one that is showing up more frequently than ever. Our aging parents are enjoying longevity, but find themselves unable to make their money last as long as they do. Should their children help them? Most often, when their adult children can, they do.
The prospect of supporting aging loved ones raises issues of guilt, the moral of question of what is right, shock for some that their parents didn't do better planning (or any planning), and frustration for Boomers who are in the sandwich generation, still supporting their own children. All this can give rise to some monumental family conflicts.
Thanks to Carolyn Rosenblatt for this helpful article for Seniors and their families, recently published in FORBES.