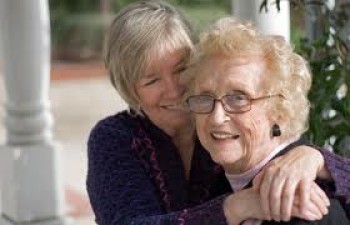 The decision to move your elderly mother or mother-in-law into your home is a life-changing decision for all concerned.
You must decide whether this is the best option, how much care she needs and how the move will affect your marriage and the rest of your family.
Living with the elderly is not always easy, but can be very rewarding.
Patience is tested, frustrations rise to the surface and, at times, the decision may seem like a huge mistake.
However, nursing homes and elder care facilities are not always an appealing option. These facilities are often expensive, and children of the elderly often feel guilty putting their parents into a home.
While living with your elderly mother will not always be easy, there are ways to make the moving and living transition easier on everyone involved.
You can't put a price on the beautiful memories you are able to create at this time.
INSTRUCTIONS... before you make this big decision:
1
Talk with your family.
Often, there are other people involved in living with an elderly mother.
Children, husbands and wives are all involved.
Be honest with them about your mother's health and why she is coming to live with your family.
Explain any and all health problems and medications she must take.
Answer as many questions as possible from your children and teens.
2
Talk with your mother's medical contacts.
Be available for her appointments, so you can ask any questions in person.
Ask about the potential effects of any changes to her medications.
3
Talk to your mother about her feelings and expectations.
Talking to your mother gives you a better understanding of what is going on in her life.
Finding out how she feels and paying attention to her situation makes the transition into living with you and your family so much easier.
Keeping communication open also gives her the chance to talk about how she feels physically, which keeps you abreast of her day-to-day health-related situations.
4
Be realistic about the help your mother needs.
While moving your mother in with you may seem like an ideal situation for her mentally and physically, you need to look at the overall situation realistically.
If she needs around-the-clock care, and you can't provide her with that, then you should definitely choose another plan of action.
Most of all, "enjoy your mother" at this stage of life and let her enjoy the beautiful opportunity to age in place with those who love her the most.
Thanks to A.N. Pike, an eHow.com contributor for this timely and sensitive article.