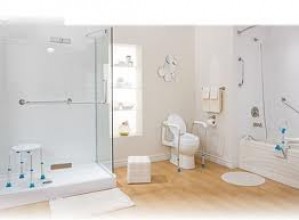 With age comes change, some welcome and some unwelcome.
When a cherished home turns into a challenging obstacle course, the solution might seem obvious: move to an assisted living complex or other age-adapted residence.
Before you make the move, consider the following suggestions that many active Seniors are considering.
Maybe you should stay in your own home for LIFE.
The Bath: (prime suspect)
This essential area is especially tricky, potentially dangerous, and sometimes totally inaccessible to those with impaired movement, weakness, or dependence on wheelchairs or walkers.
The quickest, cheapest way to begin accommodating changing needs is the installation of several key items:
-reinforced grab bars (by the toilet, in the tub area)
-raised toilet or toilet seat
-load-bearing shower seat
Accessible shower... A slightly higher investment but with tremendous payback.
(low or no threshold)
This adaptive remodel can be designed for beauty as well as practicality and is often done to address future needs while remaining beautiful and usable by all. This specialized project most definitely requires a trained expert: the drainage on a low-threshold must be precisely configured for obvious reasons!
Walk-in tub
A pricier item for adapted living, but priceless for what it provides in comfort, relaxation, and sense of "normal living." A true life-enhancer for those with limited mobility. There is an astounding selection of models and price ranges on the market.
Accessible sink
For clients who use a wheelchair, nothing beats an accessible bathroom sink with legroom underneath. Without such a sink, a wheelchair user must roll sideways up to a cabinet and employ an awkward, potentially painful body twist just to use the faucet.
Rolling vanity (disappearing act)
In this transitional plan, the bathroom maintains more of a conventional appearance. A simple but cleverly crafted rolling vanity cabinet can be designed to fit the individual space. The appearance is of a conventional, aesthetically appealing sink and vanity. When wheelchair users visit, the vanity cabinet rolls out of the way on its lockable casters.
Thanks to "Innovation Construction Company" for this informative article.