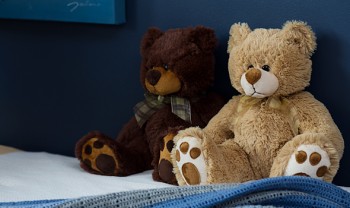 Buyers often look for a quiet back room to have a private conversation while touring a house.
Finding complete privacy might not be possible anymore in our electronic world.
Today, many homeowners own "nanny cams," ...those hidden cameras implanted into everyday objects to secretly watch what's going on when the owners are gone.
Maybe the left eye of that cute brown Teddy bear on the bed is surreptitiously watching you.
Maybe that Teddy bear is recording your entire conversation and reporting it to the seller.
This could create a distinct advantage for the seller.
Is it ethical and legal? Probably not.
Persons being watched and recorded are to be notified of the surveillance.
Some sellers are worried about possessions being pilfered. They are watching for sticky fingers.
Here's some common sense advice when touring a stranger's home: Avoid sharing your personal feelings and making remarks about your potential negotiation points until you have left the home.
The cute brown Teddy bear may tell on you if he hears the following:
"Honey, we should offer ten thousand more than the asking price and give them a huge deposit right away. This is perfect for us."
Written by Allen Unrau ...your Seniors realtor for decades.