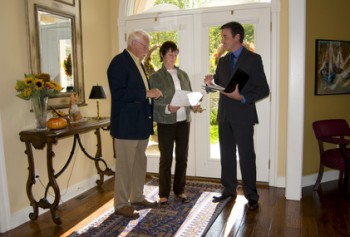 Sellers often worry that the buyers realtor showing their house won't know enough about the property to make the sale.
So, the sellers elect to stay home and make themselves available to answer questions.
Actually they may tend to shadow the buyers from room to room so they can describe all the special features.
Sellers have even pointed out that their home was constructed with heavy duty nails.
Most sellers are well intentioned and just want to help the buyer's agent.
Unfortunately a "guided tour" by the sellers has just the opposite effect.
Buyers feel rushed and uncomfortable when the sellers are home.
They are hesitant to look into a pantry, size up storage closets or look behind a shower curtain.
They just can't wait to get out of the seller's way.
No time to relax in any particular room and get the feeling of what it might be like to live in the home.
Buyers are unanimous.
They would rather the sellers not be home!
Let's make it easy for the buyer's agents.
Help me make a list of features and improvements that will make the difference.
Written by Allen Unrau . . . your Seniors realtor for decades.