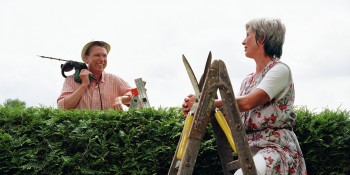 How to be a good neighbour to someone selling their home.
When the For Sale sign goes up in your neighbour's yard you'll either experience a feeling of sadness or relief.
You may have been close with them or not on good terms.
In either case, it's courteous to be supportive of their selling process.
There are a few ways to be a good neighbour, right to the end.
Some simple things you can do:
Keep your yard in good shape. When prospective buyers come to look at the house next door they will be evaluating the neighbourhood as a whole. Keep your lawn cut and tools and toys off the front yard.
If parking space on the street is at a premium, offer your driveway up for parking. This may seem like a small gesture but it can make agents and their clients feel like this must be a great neighbourhood.
Act neighbourly during showings and open-houses. During these short periods of time make sure you don't do anything to make buyers feel uncomfortable.
They might be your neighbours for a long time.
This is a great year to sell. Listings wanted. FREE market evaluation.