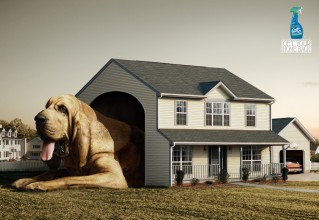 Every home has unique odours.
No matter how scent-free our homes seem to us, someone else can walk through the door and instantly pick up on last night's garlic spaghetti sauce or Fluffy's litter box in the laundry room.
Even expensive air fresheners might seem stinky to visitors.
According to the experts: Light, clean and neutral aromas work best for making buyers feel at home.
Deep house cleaning that prepares a home for sale will also improve it's scent profile.
Don't go overboard with ammonia, bleach or strongly scented cleaning solutions.
(Talk about stinky scent profiles)
Some nose-happy tips:
-Store your shoes and sports equipment in plastic boxes with lids
-Wash all bed covers and throw rugs
-Scrub bathrooms top to bottom and leave plenty of time for them to air out.
You want buyers to linger, so scents should not be overbearing, but familiar.
Simple, recognizable scents are the most desirable to buyers.
Hints of lemon, orange or cinnamon will do the trick.
Let a friend give your home the sniff test before showings begin.