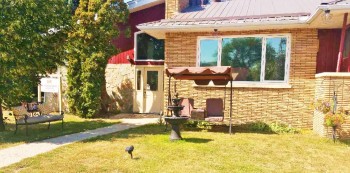 When you can't keep up with all the tasks of keeping your home and yard anymore, many emotions can surface and some may cause anxiety and regret.
Or... maybe the decision to move or downsize will actually bring relief?
For some of you the reality that your backyard will never be the paradise you had envisioned when you bought your home will bring a sense of failure.
For others of you the idea of passing on your home and lovely property to a younger family who want to make it their own will bring you a sense of pride and accomplishment.
As you prepare to sell, memories may surface of the weekend you and your spouse planted those spindly shrubs and trees that now tower over the back garden area.
You review in your mind all the fence, sidewalk and plumbing projects you managed over the years.
Memories of all the love, time, energy and money you have invested flood over you.
Now it's time to pass it on to strangers.
Whoever you are, you have done well to be a Canadian homeowner and you should be proud.
Say goodbye and encourage the new family to make your home their home and write another chapter that they can also be proud of in the future.