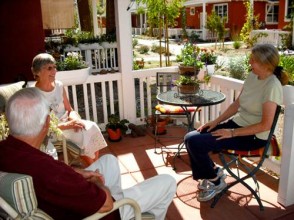 What is Cohousing?
The concept was born in Denmark back in the 1960s. Originally, young families saw cohousing arrangements as a solution to ease the burden of child care for working parents: child care duties could be easily shared among a close-knit group who bought houses adjacent to one another.
The term "cohousing" has come to mean many different types of communal living. Solterra, for instance, is a freehold tenants in common ownership model, which they call "co-housing" (with a hyphen). Other types of communal living resemble condominium or co-operative ownership, which may or may not be freehold. Regardless of ownership type, at its core, it's an intentional community that embraces collaboration and sharing.
It starts with a group of people who have a common interest or experience and who want to share space and create a community. In the most informal of arrangements, the parties could be roommates in a rental property, or in more complex arrangements, they could be co-owners in a co-housing model or cohousing in a condominium style residence.
Shared Living Options for Seniors
Shelley's Solterra Co-housing focuses on building a new shared home or renovating a home that works for senior co-housing. Solterra's homes all have shared ownership titles and are located throughout Ontario. Each home has private suites and common living areas. Four to six residents share ownership and each home has some policies and standards developed by the home's residents.
"Everyone participates to create a unique living environment," says Shelley. "The great thing about co-housing is that it takes into account everyone's ability and need for socialization or isolation."
There are other senior cohousing models in Canada.
Margaret of Victoria, B.C. was a founding member who helped create Harbourside Cohousing.
The former university anthropology professor studied and taught about cohousing and, when she retired, decided to find others who were like-minded to invest in and hire professionals to develop new-build projects. The housing would offer strata (condominium) units for sale for seniors who want a private unit within a community that is committed to creating good neighbours, and where a resident can help or ask for help.
Harbourside has 31 units and about 44 residents in seven buildings on a waterfront property on Vancouver Island. The location was strategically chosen for its proximity to groceries, churches, transportation, community centres and parks. Unlike a conventional condominium building, EVERY RESIDENT is on the board. Every owner has a say in the decisions that need to be made around rules and operations.
The property offers a common house with guest bedrooms for family or friends who come to visit, a library and community space.
Don't be fooled by the word "senior". Many looking at cohousing are in their 50s, 60s and early 70s and are often pre-retirement, says Margaret. They're in good health when they move in, but they know when they get sick or need help, there will be lots of helping hands and professional help when needed, she says.
These ideas may be workable in all parts of Canada in the future.
**Article courtesy of Denise O'Connell BNN Bloomberg