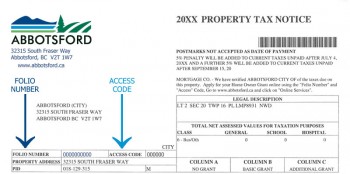 Would seniors' lives be richer, and their pocketbooks fuller and their kids better off, if they cashed out of their detached suburban homes and moved to more modest housing?
This would mean lifestyle changes and aging in smaller spaces.
Yet, British Columbia has a tax policy that SUBSIDIZES them to stay right where they are.
The B.C. Property Tax Deferment program lets people over 55 years of age (even if they've only been in Canada one year) stop paying municipal property taxes.
The unpaid taxes are recouped when the house is eventually sold.
The homeowner pays only 1% INTEREST.
On a $5,000 tax bill, that comes to $50 a year, non-compounded.
(In Washington state, the rate is 5 per cent, in Alberta 2.85 per cent, and most other jurisdictions, unlike B.C., have a means test.)
Hordes of B.C. homeowners take advantage of this program.
A provincial finance spokesman told The Herald that over 36,000 B.C. homeowners used the program in 2015 for all or part of their taxes, with 6,000 more signing on each year.
Essentially, B.C.'s wealthy senior homeowners (which is anyone who owns a house these days) are being gifted 1 per cent loans, covered by the taxpayers, as a reward for staying in their big empty homes.
Nobody should be forced to move out of a home they love, but should they be subsidized to hang onto a huge home and yard they no longer need?
**Above are not the opinions of the operators of this website. (we don't agree)
Your thoughts?
Excerpts of an article courtesy of Vancouver Courier