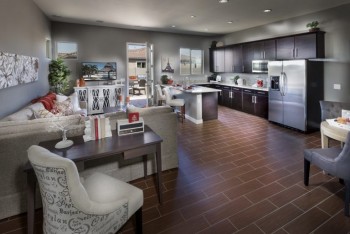 From the outside it looks like any other single family home.
Inside, this award-winning Perlman Design home allows multiple generations to live together and also live apart.
Privacy and yet togetherness in one efficient plan. Locked doors or open doors depending on what's happening that day.
Today, multi-generational households are rapidly increasing in number.
When single parents or dual-income parents need help with childcare they typically call on grandpa and grandma first.
Studies show that children who have a strong relationship with their grandparents are more likely to succeed in school, socially, in their careers and in life generally.
These relationships are also healthy for grandparents. It tends to keep them feeling useful and relevant in society.
(grandkids are great for fixing smartphones... lol)
Perlman Designs feature homes that appear from the outside to be normal single family homes. In reality they are two homes under one roof - each with their own front door, parking, indoor and outdoor living spaces, kitchens and laundry facilities.
Each residence is a complete home. There is a privacy door between them. When the door is open it allows everyone to live together. When the door is closed, each residence has complete privacy.
Is it time for BC builders to launch this style of home for the Boomers who are selling and downsizing?